AUDIE LEON MURPHY
MILITARY SERVICE NUMBER 01 692 509
AUDIE L. MURPHY'S MEDAL OF HONOR CITATION
The greatest American U.S. Army combat infantry soldier in the more than 200-year history of the United States Army. A leader of fighting men during World War II. A tower of courage unmatched even today. America's most decorated soldier ever. The recipient of citations and decorations, including every medal for valor that America gives - some even twice. He was also awarded three French and one Belgian medal. He received a total of 3 Purple Hearts, 33 awards and medals, including the Congressional Medal of Honor. At war's end, he was only 21 years of age. At 5.5 inches tall, he is the epitome of the olde adage - "It is not the size of the dog in the fight, but the size of the fight in the dog." A war hero, father, movie actor, Mason, Shriner, song writer, poet, and legend in his own time, Audie left a lasting imprint on American history. His biography reads more like fiction or legend than fact. He lived only 46 years, but he made a lasting imprint on American history.
YOUNG AUDIE
Audie was born on a sharecropper's farm in North Texas on June 20, 1924. Audie was the seventh born child of a total of twelve children born to Emmett Berry Murphy and his wife Josie Bell Killian in Kingston, Texas. The Murphys were sharecroppers of Irish descent.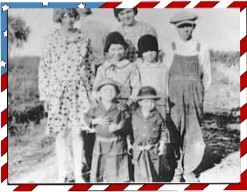 As a boy, he chopped cotton for one dollar a day and was noted for his feats of derring-do and his accuracy with a gun. By age 16, Audie had only 5 years of schooling and was also orphaned with the death of his beloved mother.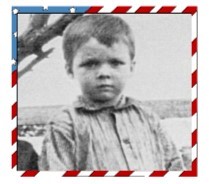 Audie as a young boy in one of the very few surviving photographs
AUDIES' MILITARY SERVICE
After being refused enlistment during World War II by both the Marines and U.S. Army Paratroopers for being too small (5'5") and underweight (110 lbs), he enlisted in the U.S. Army Infantry a few days after his 18th birthday. After basic training at Camp Wolters, Texas, and advanced infantry training at Fort George G. Meade, Maryland, Audie was sent overseas, first to North Africa, then onwards to Europe. He was assigned to the famous "CAN DO" Company B, 15th Infantry Regiment of the 3rd Infantry Division, where he first fought in North Africa, followed by action in Sicily, Italy, France, and Germany. Before long, due to his leadership, courage and heroism, Audie earned a battlefield commission to Lieutenant during nine separate campaigns in Europe from 1942 to 1945.
Medals, Awards, Citations
Medal of Honor
Distinguished Service Cross
Silver Star with First Oak Leaf Cluster
Legion of Merit
Bronze Star Medal with "V" Device and First Oak Leaf Cluster
Purple Heart with Second Oak Leaf Cluster
U.S. Army Outstanding Civilian Service Medal
Good Conduct Medal
Distinguished Unit Emblem with First Oak Leaf Cluster
American Campaign Medal
European-African-Middle Eastern Campaign Medal with One Silver Star, Four Bronze Service Stars (representing nine campaigns) and one Bronze Arrowhead (representing assault landing at Sicily and Southern France)
World War II Victory Medal
Army of Occupation Medal with Germany Clasp
Armed Forces Reserve Medal
Combat Infantry Badge
Marksman Badge with Rifle Bar
Expert Badge with Bayonet Bar
French Fourragere in Colors of the Croix de Guerre
French Legion of Honor, Grade of Chevalier
French Croix de Guerre With Silver Star
French Croix de Guerre with Palm
Medal of Liberated France
Belgian Croix de Guerre 1940 Palm
MILITARY SERVICE AFTER WW II
In 1950 Audie joined the 36th Infantry Division ("T-Patchers") of the Texas National Guard and served with it until 1966. He was a Mason and a Shriner, and belonged to several veterans' organizations.
MOVIE ACTOR & MOVIE HERO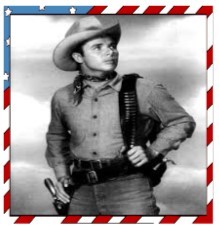 Following his discharged from the Army on September 21, 1945, Audie went to Hollywood at the invitation of movie star James Cagney. He remained in California for the rest of his life and was closely associated with the movie industry, both as an actor and a producer. He acted in 44 films, starring in 39 of them. His best known film was "To Hell and Back," adopted from the bestselling book of his war experiences by the same name. Most of his movies were westerns. In 1955, Audie Murphy was voted the Most Popular Western Actor in America by the Motion Picture Exhibitors.
His movies include:
Beyond Glory
Texas, Heaven and Brooklyn
Bad Boy
The Kid from Texas
Sierra
Kansas Raiders
The Red Badge of Courage
The Cimarron Kid
The Duel at Silver Creek
Gunsmoke
Column South
Tumbleweed
Ride Clear of Diablo
Drums Across the River
Destry
To Hell and Back
World in My Corner
Walk the Proud Land
Joe Butterfly
The Guns of Fort Petticoat
Night Passage
The Quiet American
Ride a Crooked Trail
The Gun Runners
No Name on the Bullet
The Wild and the Innocent
Cast a Long Shadow
The Unforgiven
Hell Bent for Leather
Seven Ways from Sundown
Posse from Hell
Battle at Bloody Beach
Six Black Horses
Showdown
Gunfight at Comanche Creek
The Quick Gun
Bullet for a Badman
Apache Rifles
Arizona Raiders
Gunpoint
The Texican
Trunk to Cairo
40 Guns to Apache Pass
A Time for Dying
SONG WRITER
As a song writer, Audie wrote the lyrics to 16 country and western songs, the most popular of which was "Shutters and Boards," written with Scott Turner in 1962. The song was recorded by over 30 pop singers, including Jerry Wallace, Dean Martin, and Porter Waggoner.
AUDIE SONGS INCLUDE:
Shutters And Boards (Recorded by: Teresa Brewer, Jimmy Dean, Dean Martin, Porter Waggoner, Jerry Wallace, Johnny Mann Singers, and many others), 1962
When The Wind Blows In Chicago, 1962
Please Mr. Music Man Play A Song For Me, 1962
Foolish Clock, 1962
Leave The Weeping To The Willow Tree, 1962
The Only Light I Ever Need Is You, 1962
Go On And Break My Heart, 1963
Willie The Hummer. 1963
My Lonesome Room, 1963
Elena, Goodbye, 1964
Big, Big Day Tomorrow. 1964
If There Is A Short Cut To Nowhere (I'll Take It), 1964
Pedro's Guitar, 1964
Round And Round She Goes, 1965
Rattle Dance, 1966
Dusty Old Helmet, 1969
Was It All Worth Losing You, 1970
POEM WRITER
Also an accomplished poet writer Audie penned "Crosses Grow on Anzio," "Alone and Far Removed," "Freedom Flies In Your Heart Like An Eagle"; unfortunately, only a few of his total written poems have survived.
ADULT LIFE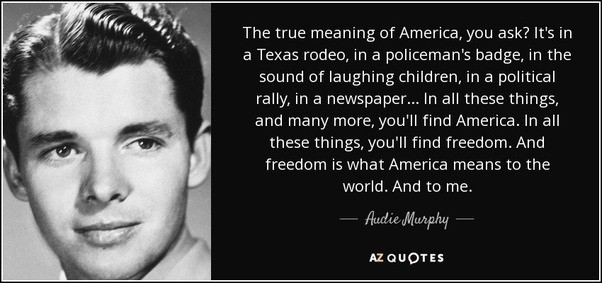 As an adult, when asked by producers of TV commercials promoting cigarettes and alcohol, Audie was mindful of his influence, and the effects that both would have on young TV watchers. Murphy married actress Wanda Hendrix in 1949. Their divorce became final two years later in 1951. Four days later, he married former airline stewardess Pamela Archer, who bore him two sons: Terry Michael Murphy, born on 14 March 1952, and James Shannon "Skipper" Murphy, born in 1954.
CHILDREN
Terrance Michael Murphy & James Shannon Murphy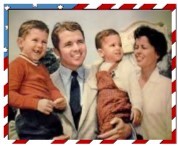 Family photo of Audie, wife Pam, and (Left to Right} two sons Terry and James
AUDIES' DEATH
Audie was killed in a plane crash on a mountain top near Roanoke, Virginia on May 28, 1971 when the private plane in which he was a passenger crashed into Brush Mountain, Virginia, 20 miles (32 km) west of Roanoke in conditions of rain, clouds, fog and zero visibility. The pilot and four other passengers in the plane were also killed. Fittingly, his body was recovered 2 days later on Memorial Day. Audie could very well be the last American war hero of note. Subsequently, he was buried at Arlington Virginia Cemetery. The aircraft was recovered on 31 May.
AUDIE L. MURPHY TODAY
Today, one can find many landmarks, Gymnasiums, Government Buildings, Public, Veteran and Memorial Parks, Museums, Airfields, Hospitals, Schools, Military Barracks. In Greenville Texas, the only other museum in the country to be named after Murphy is located 40-minutes east of Dallas, and called the Audie Murphy/American Cotton Museum. In year 2013, the Audie L. Murphy Infantry Museum "Traveling" was founded in Brighton Colorado. The museum mission is simple.., to educate the public about Murphy and his life, and to keep alive the memories of those who have served in America's Armed Forces. Each year, museum volunteer personnel work to maintain period uniforms, memorabilia, military vehicles, and firearms used by America's infantryman.
AUDIE'S FINAL RESTING PLACE
Audie Murphy is buried in Arlington National Cemetery, just across Memorial Drive from the Memorial Amphitheater. A special flagstone walkway has been constructed to accommodate the large number of people who stop to pay their respects to this hero. At the end of a row of graves, his tomb is marked by a simple, white, government-issue tombstone, which lists only a few of his many military decorations. The stone is, as he was, too small.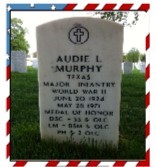 Plot: Section 46, Site 366-11
GPS (lat/lon): 38.87603, -77.07388